Introduction
Microsoft Dynamics NAV is an enterprise resource planning (ERP) software product powered by Microsoft.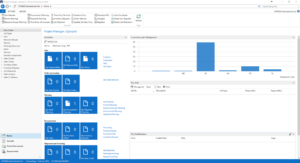 Microsoft Dynamics NAV gives small and midsize businesses complete control over their core business processes. It supports financial management processes also like supply chain management, inventory management, resource planning and many more and a lot more solutions provided by local resellers.
Microsoft Dynamics NAV is sold by local reselling Microsoft Partners.
Microsoft Dynamics NAV is available in a variety of countries and languages. In addition, Microsoft partners may make partner-created localizations and/or translations of Microsoft Dynamics NAV available in countries where Microsoft does not provide a localized or translated version.
Looking for a Microsoft partner?
Reach out the website of COSMO CONSULT – one of the largest Dynamics NAV partners.
See also: Useful links